Amerex Celebrates Major Safety Milestone
June 3, 2019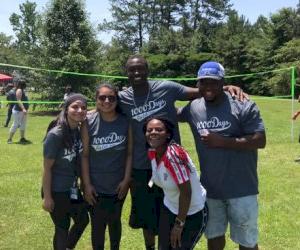 As the world's largest producer of commercial and industrial fire extinguishers and fire suppression products, each work day is filled with activity at Trussville's Amerex Corporation. Thousands of Amerex products are produced and shipped to customers throughout the US and the around the world. But regardless of production levels, team member safety is always the top priority at Amerex.  As a result, Amerex recently surpassed a milestone measured by many manufacturing companies.  No Amerex team member has suffered a work injury resulting in lost time in more than 1,000 days, almost three years.
To celebrate this significant safety achievement, Amerex paused production for a few hours on May 23 and held a cookout celebration for its nearly 500 team members. Managers grilled hot dogs and hamburgers while team members enjoyed live music, karaoke, lawn games and door prizes.
"This was a celebration of a major safety milestone and the people who made it possible," said Amerex President Harrison Bishop. "This achievement is a great representation of our team members and their commitment to create and maintain a safe work environment for themselves and one another. It takes the safety leadership of each and every person at Amerex to perform at this high level, and we are proud of the result."
About McWane Inc.
McWane, Inc. is a family-owned business based in Birmingham, Alabama, with companies across the U.S. and around the world. The McWane family of companies casts ductile iron products, including pipe, valves, hydrants, fittings and plumbing products, and manufactures fire extinguishers, fire suppression systems and steel pressure vessels. McWane is a leader in delivering clean, safe drinking water while focusing on safe, environmentally friendly manufacturing processes. With more than 7,000 team members, McWane has a longstanding commitment of supporting the communities where our team members live and work. For more information, visit mcwane.com.